 Power Tower Core
Update 4 - new visuals, new downloadable
---
Update 4
So. Much. Is. happening. Literally. Why. Do. These. Full-stops. Never. End...game dev-ing like mad, high on caffeine and Slovak wild "valerian" tea, (no seriously, it's great) the team got together some time ago and decided that a revamp of the visual was in order. It's been an idea at the back of Krystof's head for a bit longer than he'd like to admit. It's not the final version yet, however a step in the direction.
It all started with the MAIN MENU redesign, remember? The new version introduced us to a whole new world of awesome, one we wanted to see in-game as well. Power Tower's new iteration of the main menu boasted a clean dark look, bold with colour. Functional and clear, with eerie atmosphere supplied by Kyle's soundtrack. The story of how the new music came to be is a funny one - but for another time.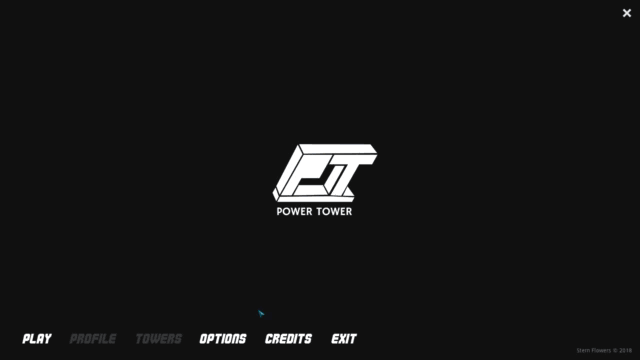 the redesigned main menu
The background had to go. Not because it was bad, but to give way for something new. Destruction and Creation may seem like opposites but they're not as different as they may seem at first glance. When you create something, it will inevitably be destroyed sooner or later, and by destroying something an empty space is found, ready to be filled and as you may have already guessed, it will be. Sooner or later.

Power Tower takes place within a computer simulation where you're the AI fighting against a virus and the world should reflect that, as means of showing this, an endless grid was created. Its purpose is to instantly introduce the player into the world of a power tower, a digital world created on the go, boundless. It took a few iterations, crashes, teas and a whole bag of luck till it got to where it stands now, the grid will move with the camera, always sticking to the player and by clever use of shaders it will always look like it's just being rediscovered rather than moved further supporting the idea of infinite space.
Check out the video below for a glimpse of the new aesthetic we have going on, and head over to the main page to grab yourself a version and play a game or two or a hundred. Did I say a hundred? Oh sorry I meant a hundred.

Files
Power Tower for WIndows
50 MB
Nov 16, 2018
Power Tower for OSX
53 MB
Nov 16, 2018
Power Tower for Linux
63 MB
Nov 16, 2018